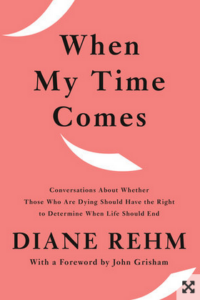 "When My Time Comes," Diane Rehm's companion book to our new documentary, is being released today, February 4, in book stores and online outlets everywhere.
Last night, Diane was interviewed about both the book and the film by NPR's Kojo Nnamdi at the book launch at the Historic Sixth and I Synagogue in Washington, DC. There was clearly a lot of love in the room for both of the revered talk show hosts. There was also a great deal of support for medical aid in dying (MAID) and the importance of having early, comprehensive end-of-life planning with one's family.
During the Q&A, a young woman identified herself as a social worker who helped a terminal patient navigate the process of obtaining MAID. She told the near-capacity crowd about the challenges involved, including finding a doctor willing to act as the attending physician. One must also locate a consulting physician and a pharmacist who are willing to participate. Happily, this woman's patient was able to exercise her right to a more peaceful death, but her story underscores the fact that passage of a law doesn't mean that access to MAID is readily available to qualified patients.
Diane will be embarking soon on the promotional tour for the book. Check out the schedule to see when she'll be appearing near you!